Thank you to Sugar Mountain PR for a complimentary copy of Sundrops in exchange for this CD review.
What sweet music! We have enjoyed this CD at home, dancing in our loft, in the car, on long trips, and just for general happiness time! Some of our favorites are It's Gotta Rain (If You Want a Rainbow), Are You a Monster Too?, and of course, You Are My Sunshine. The music is child like, while still enjoyable for adults. It is happy, upbeat, and tells beautiful stories. The instrumentation is impressive. Make sure to read the CD jacket which tells you the plethora of unique instruments used.
And even more impressive is the fact that it was produced using solar power! Keeth and Nala are proud of the "metformin-online.com" they provide for their son and obviously want the rest of us to get out there and enjoy the rain, sun, flowers, dirt, and butterflies! Believe me, you will want to run straight into nature and soak up some of that solar power after listening to this beautiful collection!
---
Organic family fun, produced with solar power
Sundrops
The Harmonica Pocket's Newest Captures the Joys of Splashing in the Sun
Port Townsend, WA, May 4, 2015 ~ The Harmonica Pocket, Parents' Choice Gold Award-winning, solar-powered stars of Puget Sound's independent family music scene, will release their third sun- and rain-splashed album Sundrops on

May 19th

(Burnside Distribution, $9.99 digital and $12.99 CD). This uplifting collection of 12 acoustic songs provides listeners with nourishing, organically grown music for the soul, capturing joyful moments of life: singing in the sun, splashing in puddles, digging in the dirt, and simply plucking a ukulele or pretending to be a monster.Colorfully packaged with cover art designed by paper cut artist Hannah Viano, Sundrops was produced using solar energy at The Harmonica Pocket's island studio. Band mate and songwriter Keeth Apgar notes, "As musicians and parents, we're trying to make uplifting all-ages music, full of vocal harmony and acoustic sounds." Apgar and partner Nala Walla are raising their 4-year-old son Montana with lots of outdoor time, so the idea of "rolling in the dandelions" in "Sing in the Sun," getting soaked by a rainstorm, planting seeds and coming home with dirty fingernails are all part of the free-range childhood that they remember. "Now more than ever I feel real strongly that playing outside is as important as eating well and getting enough sleep," Apgar explains.Johnny Bregar co-produced and performs on the album, and Grammy Award-winning Hudson Valley artist Dean Jones made the final mixes sparkle with his magic touch. Special guests Chris Ballew (aka Caspar Babypants), Johnny Bregar, Marcy Marxer, Alex Mitnick and Simon Lynge add to the full and expansive sound . Young Montana adds adorable vocal bits on "Are You A Monster Too?" and "I Love Ukuleles." Most of the summery Sundrops songs are original compositions, except for the cover of the classic "You Are My Sunshine" (a soft, minor-key arrangement) and "Sun Song" (by spoken-word artist Ari Lesser).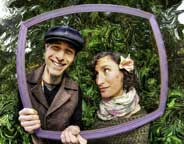 Keeth Apgar and Nala WallaMore about The Harmonica PocketSundrops is the third all-ages recording from The Harmonica Pocket, active members of the acclaimed Seattle area Kindiependent collective of family-centric musicians.Their albums Ladybug One and Apple Apple won national acclaim, awards and radio play. Pregnancy & Newborn recommends this "groovy-green swing band," and Cool Mom Picks applauds their "cool guitars, sultry saxophones, and mature lyrics." Parents' Choice simply says that "each quirky song becomes an inspired treasure," and that the music "inspires chills." As both a recording and live performance project, The Harmonica Pocket is known for its highly improvised live shows laced with unusual cover songs, hula hoops and spinning flags. The Harmonica Pocket has performed in sold-out theaters, clubs, classrooms, libraries and festivals nationally and internationally.They recently performed with the Seattle Symphony, and they plan a full slate of spring and summer concerts around the Pacific Northwest. Visit www.harmonicapocket.com for updated concert details.